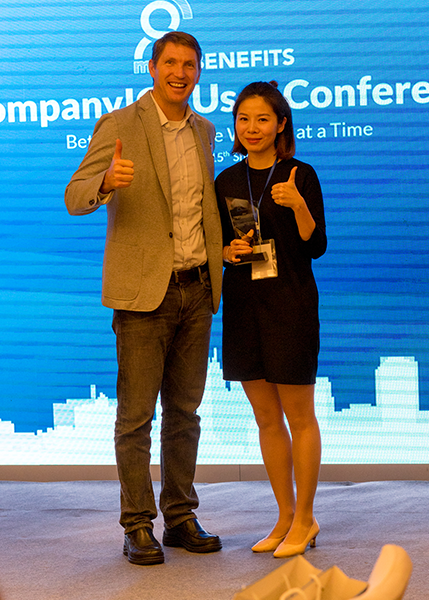 On December 15, 2017, MicroBenefits hosted our first annual CompanyIQ User Conference at the Four Points by Sheraton in Shenzhen, China. The one-day event had over 150 attendees representing more than 30 brands and 80 core suppliers from a variety of industries.
The objective of this conference was to begin to create a cooperative community among users of the MicroBenefits' flagship product—CompanyIQ—whereby existing clients were able toshare their experiences and best practices, as well as mutually exchange thoughts and ideas on how to improve worker engagement.
Representatives from many brands and suppliers presented and sat on panels where they discussed the app and how it was explicitly enhancing their businesses. Also, super users from factories gave first-hand accounts of the impact CompanyIQ has had on them.
The day was kicked off with brief remarks by the MicroBenefits' president, Bryant J. Eggett, and then quickly moved onto the keynote speaker Johnny Kong, General Manager of the ICTI CARE Foundation, with his presentation "ICTI CARE Pilot: The future of worker grievance and engagement."
Other speakers for the conference were Qingqing Zhang of Jabil, Gang Liu of Biel, Angela Wu of Shoetown, and Desmond Lam of the Crystal Group, as well as experts from within MicroBenefits.
The response from attendees to the day was overwhelmingly positive, and MicroBenefits looks forward to hosting such events in the future.♦︎